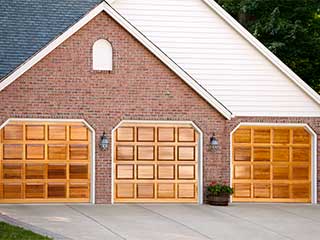 You may have moved into a new home or need to sell an existing home. However, there is one problem… you have a horrible looking garage door. There are plenty of ways to effectively alter the appearance of these doors without having to break the bank.
Why Should You Bother?
The first impression a person receives of your property is generally based on what they see when they pull up or see when they walk past your home. Your garage door gives your home curb appeal. If it is falling down or the paint is chipping off, it is unlikely that it will be attractive to anyone passing by. With a little bit of work, you can become the envy of your neighbors. After all, having an attractive looking door can contribute to the overall appearance of your home.
Get The Paint Out
One of the most affordable options when looking for ways to improve the look of your overhead door is to paint it. You can be as creative as you would like to be when it comes to selecting paint. Some homeowners like the traditional look of a wood door. If you don't have a wood door, you should know that there are paint finishes which give the appearance of looking like wood. It is usually a stain that has to be applied to give the appearance you are trying to achieve. We also recommend latex paint, which will last longer and hold up against extreme weather.
Give Your Door Eyes
Another option for improving the way your door looks is to have windows installed. If you have a traditional door, you could change its entire look with windows. A nicely framed window can add some real character to a once dull looking door. Finally, consider some of the hardware that is used on garage doors.
Consider Extra Accessories
Even if your door has an automatic opener, it doesn't mean you can't buy handles or hinges to enhance its appearance. One of the best places to start when you're looking for inspiration is to look at other doors in the area or by searching through trade magazines. You'll be able to spot the looks which appeal to you.
Our professionals at Garage Door Repair Bay Area can help you achieve the look you want for your door. Just give us a call to discuss your needs further and learn what we can do for you.