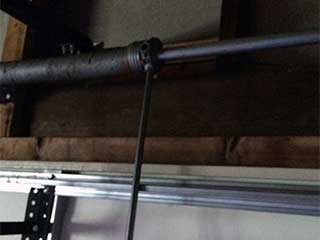 Our company specializes in providing local homeowners with a variety of spring-related services, from maintenance to replacement. We even have upgraded versions that can last much longer the average components that we can offer you at unbeatable prices.
Regular Spring Maintenance
The springs are in charge of supporting the weight of your door panels, and therefore they are under a great deal of tension on a regular basis. That means that not only are they more likely to break than arguably any other part of your system, but they are the most dangerous component that can break. To prevent that, or to at least delay that type of scenario and make sure your springs are able to continue functioning for as long as possible, we offer a routine maintenance service. During these appointments, our technicians will perform a full inspection of your springs, lubricate their coils and adjust their tension as necessary.
The Dangers Involved
When a spring breaks, your door is no longer safe to use. Even if you are not there when it happens, and potential to be whipped and lacerated by these powerful steel coils has been avoided, dealing with them is still a genuine risk. Your door depends on these crucial components, and could end up collapsing if they are being mishandled.
The Upgrades Available Today
Aside from regular maintenance, the best way to make sure you don't suffer from a broken garage door spring is to upgrade your old components. Oil tempered springs are incredibly durable, as well as flexible, and they can last much longer than their average counterparts. They can be very useful when dealing with heavier doors. Another option is getting galvanized springs, as these are ones that have been specially coated with zinc to protect them from rust and corrosion. As long as their coating remains intact, they are safe from these types of scourges. Our technician will recommend which type is best suited for you, and then install them safely and quickly.
We're Here For You
You can count on our team at Garage Door Repair Bay Area for anything. We can repair any part of your system or replace it with a matching or even better component. Call us today.
Need more? We also provide:
Part Replacement & Repair
Opener Sensor Replacement
Garage Door Cable Replacement
Garage Door Off Track Repair