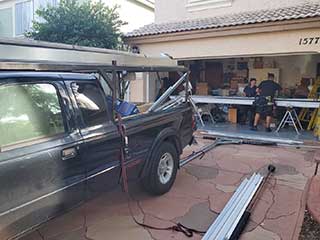 The type of problem you're facing determines the speed of service you need. With emergency garage door problems like broken springs or a roller popping out of the track and getting the door stuck, require a quick fix. And that's exactly what the Garage Door Repair Bay Area team can provide. The fastest solutions to any issue, from troubleshooting and repairs to part replacement. We always come prepared with new garage door parts to replace any spring, cable, roller, or other components that broke or can't hack it anymore.
Garage Door Gets Stuck
Different situations can have different causes. With a garage door that only opens up to a certain height, this type of issue can stem from hardware or something with electrical wiring or software. Bent garage door tracks need repairs to return to a straight and even shape. If a garage door roller pops out of the track, odds are there's either a blockage or a bending in the tracks. Sometimes the rollers break and need replacement. Whatever the cause, we come with new rollers, and can even replace garage door tracks or correct their misalignment. Even problems with the garage door opener can cause issues. The opener travel limit can need adjusting, or the chain of the drive system could be too slack. Even opener motor gear wearing out has caused similar issues. Whatever the source, our Bay Area garage door repairmen will find and fix the problem.
Bay Area Garage Door Broken Spring Repair Services
A garage door with broken springs not only poses threats but also doesn't work as it should. The springs' role is to counterbalance the panels. Without them, the door's weight rests on the opener, which can take its toll very quickly. Therefore, it's advised not to use a garage door with broken springs. Replacement can take very little time when carried out by a professional. Of course, if you try to do it yourself, you run the risk of getting very seriously hurt, as broken springs can whip around, and even new ones can break during the installation if you don't know how to handle them correctly when adjusting tension. When you're in a hurry – don't worry! With our same-day broken garage door spring replacement services for the Bay Area area and other local regions, you won't have to wait. Our technicians will be on their way with a new spring as soon as you call.
Help Today From Garage Door Repairmen Near You!
You always have a quick fix as an option when you need it. Garage Door Repair Bay Area technicians offer same-day service solutions every day for all types of unexpected problems. Whether you need a new spring installed or opener troubleshooting, our experts will take care of it ASAP. Need emergency garage door repair services? Go ahead and call us anytime for an affordable solution on the same day.