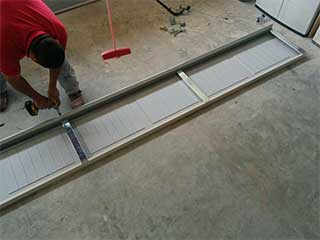 When something goes wrong with your garage door system, you need to take a deep breath, and then give our team a call. These systems are very complex and should never be handled by amateurs. The risks involved are too dangerous.
Replacing a Broken Spring
As the parts of your system that support the weight of the door, the springs are incredibly important. If they break, though, they can become extremely dangerous, and will render your door completely inoperable. Don't worry. Just give our team a call and we'll perform the spring replacement for you without putting your safety at risk.
Solving Opener Problems
It doesn't matter which type of opener you have, a wide variety of problems can occur. These electro-mechanical units are comprised of a lot of moving parts, and careful attention must be paid to them all in order to ensure they are repaired correctly. We can always help. Regardless of if it's a worn out motor gear, a broken chain-drive system or even something to do with the inner circuit board; you can always rely upon our technicians for quick and effective assistance.
Tracks and Rollers
All of the hardware parts of your door can develop certain issues over time, but the most common ones are the rollers and the tracks. The rollers can get damaged and break, while the tracks can develop bends, or get blocked by dirt and debris. We can make sure these sorts of issues are resolved faster than you can spit. Well, ok. Maybe not that fast, but still pretty darn fast.
Top Tier Specialists
Our technicians have over two decade's worth of experience, and we're always ready and willing to help every local homeowner with any type of automatic garage door problem. Contact Garage Door Repair Bay Area today to get the best professional assistance around.
We also offer:
Genie Garage Door Openers
Galvanized Torsion Spring Installation
Garage Door Troubleshooting Services