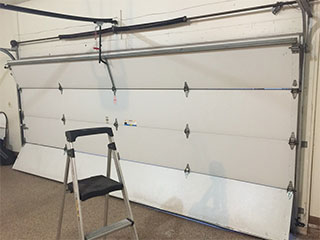 Give Your Garage Door A Checkup
Periodic garage door maintenance is the easiest and most efficient way to know that your garage door will be working well for years to come! It allows an expert to take a good look at your door's system, which is more complicated than you may think, and ensure that everything is working as it should and there isn't too much wear and tear causing trouble. This can prevent issues such as a sudden break that will leave your door immobile when you need it, as well as the slow spread of damage from strain due to a part that is no longer in good shape. Taking care of it now will make things easier in the future!
Protect Your Family From An Accident
Pets and children are the most at risk for sustaining harm from a closing garage door, which is why safety sensors are so vital. They are what informs the door to stop and reverse if something is beneath it while it's closing so that your family is protected from harm. However, they can get tweaked over time from accidental bumps, which makes them less efficient. That's where we come in! We'll perform tests to make absolutely certain that the sensors are properly aligned and working correctly.
We Also Offer A System Examination
A complete inspection of your door's system is the best way to catch any early signs of trouble that may give you grief later down the line if they're left to linger. One of our technicians will give the system a thorough look for rust, too much wear, or any other problems that may be affecting how your door functions. Sometimes some bolts will loosen from being jostled and need to be tightened, or the springs need some adjustments, but in either case we'll find any problems so they can be taken care of.
Contact Our Team Today
Call Garage Door Repair Bay Area now so we can get your maintenance appointment scheduled at a time that's best for your schedule!
But wait, there's more! We also offer:
Roll Up Garage Door Services
Oil Tempered Torsion Springs
Screw Drive Opener Replacement
Garage Door Safety Inspections