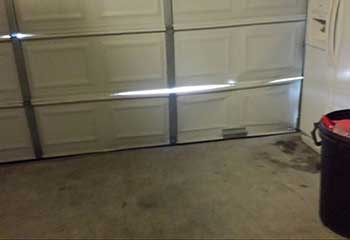 Garage Door Opener Repair
Customer Issue: Mrs. Calin's garage door remained in its open position after she opened it, and she couldn't get it to close.
Our Solution: In situations like this, we always start by looking at the photo eye sensors. The sensors looked perfectly aligned, but the light was blinking, so something had to be blocking their line of sight. We removed the sensors and cleaned the insides of both lenses before reinstalling them. The green light came on, and the garage door had no more false positives keeping it open.
Maria Calin
- Half Moon Bay
Broken Spring Replacement
Customer Issue: The Sasenburgs' garage had a torsion spring give out on them during a weekend away from home. An unfortunate homecoming surprise.
Our Solution: Like always with torsion spring replacement, we started the project by disconnecting the opener and making sure the door was fully shut. Then, we slowly eased the torsion cones loose, letting the springs release their tension a bit at a time. Once everything was slack, we removed the caps, took off the springs, and cleaned and lubricated the spindles before installing new ones. Upon reconnection, the garage door worked just fine.
Yossi Sasenburg
- Half Moon Bay